Dandruff and an oily scalp/hair?
We reveal why and the solution you need
If dandruff flakes have got you down, know that you're not alone. Here we reveal the no-nonsense guide you need to treat your dandruff and prevent unwanted flare-ups.
Dandruff is sen most common scalp concern among both men and women in India. Here we reveal what causes dandruff, as well as the lifestyle factors that trigger flare-ups, plus how to treat dandruff in the short- and long-term with our effective new Symbiose range. Especially created for those who are dealing with dandruff, Symbiose's indulgent formulas mean you don't have to compromise on your luxury in-shower experience when you want to wave bye bye to dandruff flakes.
Why dandruff and an oily scalp?
1) Malassezia restricta
One of the biggest causes of dandruff is a microorganism called malassezia restricta. The excess sebum found on an oily scalp is a nutrition source for this microorganism. Once consumed, the malassezia restricta produces oleic acid. This acid can be irritating to the scalp triggering a rapid production of skin cells that leads to dandruff flakes, irritation and redness.
2) A lack of humidity
In winter, there tends to be less moisture in the air that can dehydrate the skin and cause a surge in sebum production*. Since the malassezia restricta lives off sebum this can cause your dandruff to worsen.
Dandruff and an oily scalp: An endless cycle
Squalene (that makes up the sebum on our scalp alongside triglycerides, wax esters and free fatty acids) can peroxidise when we have dandruff**. What does that mean? Well, the process of peroxidisation occurs when free radicals "steal" electrons from the squalene. This leads to inflammation, barrier alteration and our skin cells to go into overdrive, causing - you guessed it - more dandruff.
In another study, dandruff was linked to unwanted bacteria colonizing the scalp*** so the key to tackling dandruff in oily scalps is to manually remove the unwanted flakes from the scalp, feed the good bacteria and soothe the scalp. Enter Kerastase's new range, Symbiose's.
Symbiose routine for oily scalp
Symbiose is a new range of formulated with three key ingredients to treat dandruff.
1.

Salicylic acid:

acts immediately to dissolve the unwanted flakes with its ability to exfoliate and cleanse the scalp;


2.

Bifidus:

since we know that the unwanted colonization of bacteria on the scalp can contribute to dandruff, it's important to focus on feeding a healthy eco-system, which bifidus does;


3.

Piroctone olamine:

alongside bifidus, this regulates the microbiome imbalance, tackling the unwanted malassezia restricta microoganism and preventing dandruff flakes.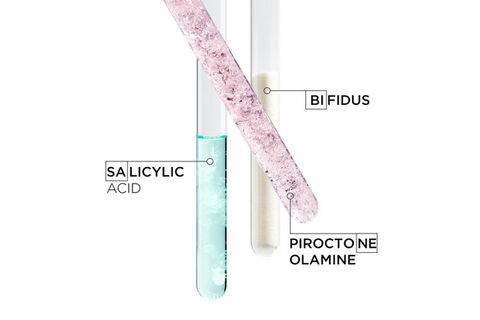 The Symbiose range includes four products that are ideal for oily scalps with dandruff. With Symbiose you can enjoy instant benefits and long-term efficacy allied with luxurious care.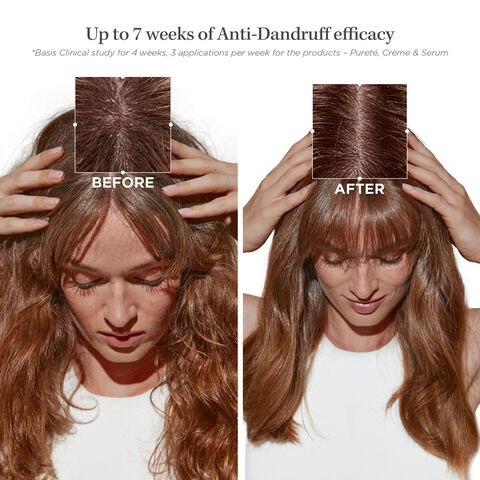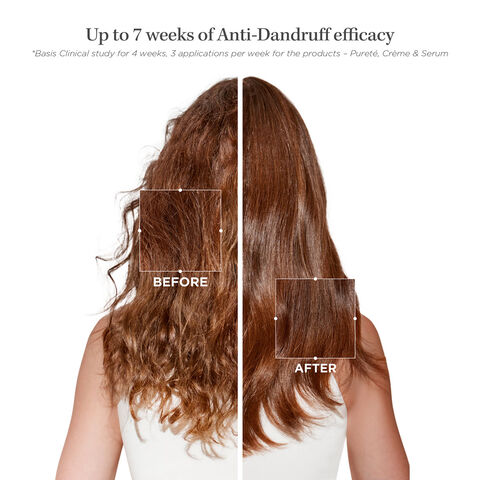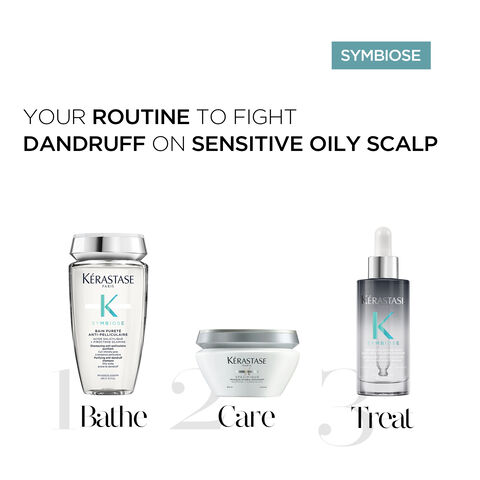 Symbiose works immediately and long-term in oily hair to reduce the irritation, remove the unwanted flakes and keep unwanted dandruff and oil at bay.
The Bain Purete Anti-Pelliculaire shampoo is formulated for oily scalps and contains both salicylic acid to further tackle those unwanted flakes and piroctone olamine to tackle the malassezia restricta to prevent further dandruff production.

Often when skin is dehydrated it products more oil, so keeping scalp and hair nourished will actually help to limit that sebum production. The Mask Hydra-Apaisant Masque is a lightweight silicon-free hair mask that deeply hydrates and rebalances the scalp ensuring an improved hair surface health.
A hero product used in the fight against dandruff is the

Serum Cellulaire Nuit Anti-Pelliculaire Intensif

, a potent nighttime serum that has the trio of dandruff-fighting ingredients: salicylic acid, bifidus and piroctone olamine. Its jelly texture means it is easy to apply to the scalp and it won't drip.
+7 Weeks of anti-dandruff efficacy*
Scalp barrier is preserved*

Scalp looks healthier and stronger**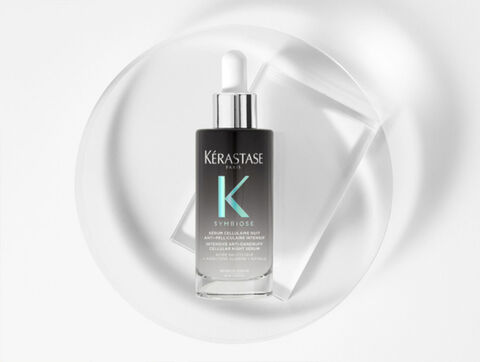 Symbiose for Dandruff
The Symbiose range includes six products and has been formulated so you can still enjoy a luxurious hair washing experience whilst also functioning as an effective dandruff treatment. With Symbiose you can enjoy instant benefits and long-term efficacy allied with luxurious care.
There are two sulfate-free shampoos to choose from depending on whether you have a dry or oily scalp. Both contain salicylic acid and also piroctone olamine to tackle the malassezia restricta microorganism that causes the dandruff to occur, whilst also effectively cleansing your scalp and strands. The Bain Purete Anti-Pelliculaire is formulated for oily scalps while the Bain Creme Anti-Pelliculaire for dry scalps has a rich creamy texture. The addition of a sugar derivative improves scalp comfort by relieving the sensations of itchiness.

To bolster your fight against dandruff, there is also a potent nighttime hair serum - Serum Cellulaire Nuit Anti-Pelliculaire Intensif, that contains the trio of active dandruff-fighting ingredients - salicylic acid, bifidus and piroctone olamine. With a jelly-like texture it easily glides onto the scalp with no mess or drips.

With continued use, Symbiose works instantly and over time to fight the symptoms of dandruff sloughing away unwanted flakes and soothing irritation, whilst feeding a happy, healthy, scalp ecosystem.