Dandruff and a dry sensitive scalp?
Discover the causes and how to treat it
An itchy, flaky, scalp can be incredibly frustrating, here we reveal a simple guide to how to soothe and hydrate your scalp to treat and prevent your dandruff.
Dandruff flakes can be frustrating and can knock your confidence and, yet, dandruff affects almost half the women in the world. Often dandruff is linked with excess sebum but it can also affect dry, sensitive scalps. If you have small, white dandruff flakes that tend to fall on the shoulder then you may have a dry scalp. Here we reveal how to hydrate a dry scalp and remove dandruff flakes like a pro.
What causes dandruff in dry, sensitive scalp?
Dry, sensitive scalps can also suffer from dandruff. Unlike dandruff caused by an excess of sebum which leads to larger yellow and sticky flakes, dandruff in a dry scalp is caused by a deficit in hydration that can accelerate cell renewal leading to small white flakes, alongside an itchy, red and sensitive scalp.

The key to treating a dry, sensitive scalp is to boost hydration, whilst also tackling the flakes to remove them before they have the chance to shed.

Dandruff in dry hair is caused by decreased lipids between the cells*, as well as a deficit in anti-microbial peptides in the scalp which can lead to an imbalance in the scalp's microbiota. As part of this, the scalp can experience barrier function alternation which leads to a loss of water and dehydration, an impaired barrier can also trigger inflammation which can leave the scalp feeling sensitive.
How to treat dandruff in dry, sensitive scalps
The key to treating a dry, sensitive scalp with dandruff is to moisturize the scalp and remove the fakes. Our new Symbiose ranges products
formulated specifically for this purpose. The range contains three active ingredients that target and treat dandruff.
Salicylic acid
loosens and exfoliates away the dry flakes, whilst also cleansing the scalp;
Bifidus
feeds the healthy microorganism on the scalp;
Piroctone olamine
regulates the microbiome imbalance, preventing dandruff flakes.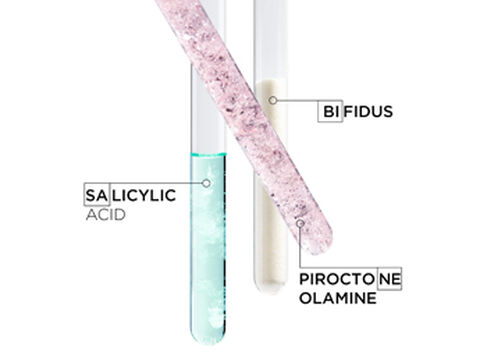 Symbiose routine for dry, sensitive scalp
The foundation of any good hair routine is your shampoo. Try our moisturizing shampoo, Bain Crème Anti-Pelliculaire, it is free from silicones and sulfates and is formulated for dry scalps prone to dandruff. It foams beautifully to cleanse, exfoliate, and soothe the scalp without stripping much-needed moisture.


Up to 7 weeks of anti-dandruff efficacy*
To condition the hair, use Kérastase Hydra-Apaisant Masque which is a lightweight silicon-free hair mask that deeply hydrates and rebalances the scalp ensuring an improved hair surface health. The hydrating formula soothes scalp discomfort whilst hydrating the hair, after one use it reduces scalp sensitivity.
Reduces scalp sensitivity after the 1st application and overtime*
*Clinical instrumental corneometer test
Another hero in the fight against dandruff is our Serum Cellulaire Nuit Anti-Pelliculaire Intensif. Used at night it supports the scalp when its at its most regenerative. The non-drip jelly-like serum contains all three active ingredients to loosen flakes and soothe the scalp while you sleep.
Dermatologically tested for sensitive scalps
Symbiose for Dandruff
The Symbiose range includes six products and has been formulated so you can still enjoy a luxurious hair washing experience whilst also functioning as an effective dandruff treatment. With Symbiose you can enjoy instant benefits and long-term efficacy allied with luxurious care.
There are two sulfate-free shampoos to choose from depending on whether you have a dry or oily scalp. Both contain salicylic acid and also piroctone olamine to tackle the malassezia restricta microorganism that causes the dandruff to occur, whilst also effectively cleansing your scalp and strands. The Bain Purete Anti-Pelliculaire is formulated for oily scalps while the Bain Creme Anti-Pelliculaire for dry scalps has a rich creamy texture. The addition of a sugar derivative improves scalp comfort by relieving the sensations of itchiness.

To bolster your fight against dandruff, there is also a potent nighttime hair serum - Serum Cellulaire Nuit Anti-Pelliculaire Intensif, that contains the trio of active dandruff-fighting ingredients - salicylic acid, bifidus and piroctone olamine. With a jelly-like texture it easily glides onto the scalp with no mess or drips.

With continued use, Symbiose works instantly and over time to fight the symptoms of dandruff sloughing away unwanted flakes and soothing irritation, whilst feeding a happy, healthy, scalp ecosystem.