Got dandruff? Discover the causes and how to get rid of it
If dandruff has got you down, know that you're not alone. Here we reveal the no-nonsense guide you need to treat your dandruff and prevent unwanted flare-ups.
Dandruff is one of the most common scalp concerns among men and women alike. Here we reveal what causes dandruff, as well as the lifestyle factors that trigger flare-ups, plus how to treat dandruff in the short- and long-term with our effective new Symbiose range.

Especially created for those who are dealing with dandruff, Symbiose's indulgent formulas mean you don't have to compromise on your luxury in-shower experience when you want to wave bye bye to dandruff flakes.
What is dandruff?
We all shed our skin. In fact, humans shed their entire outer layer of skin every 2-4 weeks. Seborrheic dermatitis and dandruff are the same disease that affect different parts of the body, with dandruff restricted to the scalp*. A healthy scalp usually renews its cells every 14 days but when dandruff occurs the skin overproduces cells and the renewal process takes just 7 days.
The combination of the excess cells and the speed of renewal causes flakes to cluster on the scalp, often along the top of the head, behind the ears and at the nape of the neck. When
they finally dislodge the large white flakes are more noticeable than usual, especially in dark or short hair. A mild form of seborrheic dermatitis, dandruff doesn't just cause flakes to fall, it
can also leave the scalp red, irritated and oily.

A concern some have, is can dandruff cause hair loss? And, in short, the answer is no. However, if your scalp is irritated enough for you to itch it a lot, you could damage the scalp which could, in turn, slow hair growth. That's why it's best to get to the root of the problem and get things under control.
What Causes Dandruff?
There are various known triggers, so if you are dealing with unwanted dandruff then it could be down to any of the following causes:
Malassezia Restricta Microorganism
Most cases of dandruff can be traced to a single-celled microorganism that exists on all scalps called malassezia resticta. It feed on the oils and produces oleic acid, which can irritate some scalps triggering an immune response causing rapid skin cells proliferation leading to irritation, redness and dandruff flakes.
A sudden drop in temperature
When the colder temperatures hit, there tends to be less moisture in the air both outside and inside where central heating can dehydrate the skin. This dryness can trigger an overproduction of sebum** that the malassezia restricta feeds off causing a dandruff flare-up. One study in India found that dandruff was worse in the colder northern regions than in the south***, where the high humidity could have reduced the severity of the dandruff cases.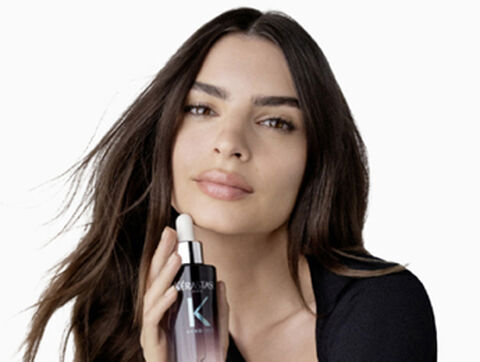 Using the wrong hair and scalp products
This can lead to a condition known as dermatitis (a general term for skin irritation) and dandruff. It's important to wash hair with dandruff regularly to dislodge the flakes but you need to ensure you're using the right products.
Other factors that cause dandruff
While stress can't cause dandruff to start, it can cause dandruff to worsen. The same goes for external aggressors like pollution—city dweller, take note.
How To Get Rid Of Dandruff?
If, by now, you have realized that you have dandruff you might be wondering - will dandruff go away on its own? Unfortunately it won't, you need to look at using products specially formulated with dandruff in mind to tackle the microorganism that's causing the proliferation of flakes. A microbiome product that helps balance the microorganism will be your best line of defense when it comes to dandruff, as well as a shampoo and scalp scrub as they will help loosen those flakes, soothe the scalp and reduce the oil.

Another question many with dandruff ask is - whether dandruff can be cured? While there is no medication that can get rid of dandruff for good, it can be effectively and easily managed with the right hair products. Once it's under control, you may get the occasional flare-up if you're stressed or the weather is getting colder, but well formulated products can work wonders.
So what products should you use to treat your dandruff?

Symbiose

is a new range of hair products formulated to treat the causes and symptoms of dandruff with three key ingredients.

Salicylic acid

instantly acts to dissolve the flakes thanks to its exfoliating and cleansing action;

Bifidus

works to feed a healthy scalp eco-system, while

Piroctone Olamine

regulates the microbiome imbalance, effectively 'killing' the unwanted malassezia restricta microorganism.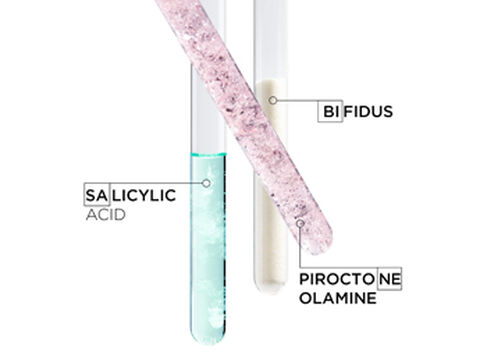 Symbiose for Dandruff
The Symbiose range includes six products and has been formulated so you can still enjoy a luxurious hair washing experience whilst also functioning as an effective dandruff treatment. With Symbiose you can enjoy instant benefits and long-term efficacy allied with luxurious care.
There are two sulfate-free shampoos to choose from depending on whether you have a dry or oily scalp. Both contain salicylic acid and also piroctone olamine to tackle the malassezia restricta microorganism that causes the dandruff to occur, whilst also effectively cleansing your scalp and strands. The Bain Purete Anti-Pelliculaire is formulated for oily scalps while the Bain Creme Anti-Pelliculaire for dry scalps has a rich creamy texture. The addition of a sugar derivative improves scalp comfort by relieving the sensations of itchiness.

To bolster your fight against dandruff, there is also a potent nighttime hair serum - Serum Cellulaire Nuit Anti-Pelliculaire Intensif, that contains the trio of active dandruff-fighting ingredients - salicylic acid, bifidus and piroctone olamine. With a jelly-like texture it easily glides onto the scalp with no mess or drips.

With continued use, Symbiose works instantly and over time to fight the symptoms of dandruff sloughing away unwanted flakes and soothing irritation, whilst feeding a happy, healthy, scalp ecosystem.